NOW IS THE TIME TO SIGN UP FOR THE 2009 AHA TEAM TOURNAMENT!
CONTACT YOUTH TEAM TOURNAMENT COACH SHIRLEY SHELBY

CONGRATULATIONS TO ARAB YOUTH CHAMPION JACOB KUYKENDALL!
JACOB WAS JUST NAMED REGION 9 HORSEMEN'S CHOICE
10 & UNDER WALK TROT WINNER!
YOU can be an ARAB Youth Champion, too!
Join us and see for yourself!

ARAB YOUTH CHAMPIONS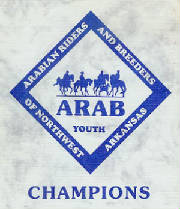 Arabian Riders And Breeders of NW Arkansas (ARAB)

Affiliated with the Arabian Horse Association (AHA)